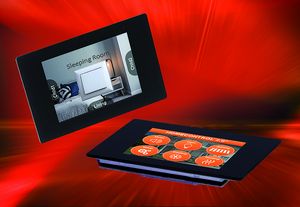 Smart touch displays in miniature format
At the upcoming embedded world 2020 on February 25th in Nuremberg, innovative display manufacturer Electronic Assembly will be presenting the world's first series of smart miniature touch displays.
The extremely affordable uniTFTs displays employing IPS technology have a capacitive touch screen for direct and intuitive interaction. The first member of this new display family is the smallest one with its diagonal of 2" only. More sizes in 2.8", 3.5" and 4.3" formats will follow shortly. Boasting a luminance of 1,000 cd/m2 and more, they offer brilliant and high-contrast images even in bright sunlight. This screen technology permits viewing angles of almost 360°. All touch and display functions as well as animations can be freely programmed using the supplied Windows tool.
The miniature touch panels are therefore eminently suited to replace physical switches and controllers in home automation, for use as control panels in caravans or for integration into kitchen appliances as well as wellness and fitness equipment. Alongside a USB interface, they come with all customary interfaces, such as RS232, SPI and I2C. Digital in- and outputs, 4 analogue inputs and a PWM output make it possible to use them as intelligent controllers for the calculation and management of data and signals.
At the world's leading trade fair for embedded systems, held in Nuremberg from 25th to 27th February 2020, you will have the opportunity to personally experience the features of these novel miniature touch panels from the uniTFTs family in hall 1 at stand 1 389. The uniTFT family also comprises larger formats of up to 10.1" with nearly identical functions.
Here's a link for more information, for the data sheet and for a DEMOPACK.