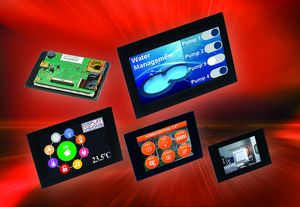 DisplaysLive! Event 2020
From November 10th to 12th 2020, Electronic Assembly will provide numerous virtual events around displays. Among other things, the display specialists will showcase their worldwide unique series of multi-touch-capable display modules in small dimensions.
The tablet-like displays of the uniTFT series are available in staggered sizes from 2 to 10.1 inches. As IPS panels with AACS technology (All Angle Color Stability), they keep contrast and colors stable even at oblique viewing angles. These displays are not subject to the inverse tilt effect that is inherent in the widely used TN displays. With a maximum brightness of more than 1,000 cd/m², they are clearly readable even in direct sunlight or under bright surgical lights. The capacitive touch surface of the uniTFTs recognizes multi-finger gestures and also reacts reliably when used with thin gloves.
Thanks to the integrated input/output and fast graphics controller, the display modules are "ready to run" without additional peripherals. They can be controlled via USB and all common industrial interfaces (SPI, I²C, RS232). The enclosed Windows tool uniTFTDesigner includes an extensive library of graphic elements as well as functions for diagrams, digital and analogue meter instruments or line recorders. Even users who are not experienced in programming can easily create animated touch and display functions, also with audio output.
The uniTFTs are suitable for the operation of analysis devices or intelligent measuring and test setups as well as control panels in mobile homes, high-quality kitchens and wellness or fitness equipment. They are also an excellent replacement for mechanical switches and controllers in home automation.
Schedule: 11th November 2020, 14:00 to 14:30 o'clock (MEZ), online.
Registration f.o.c. at website.