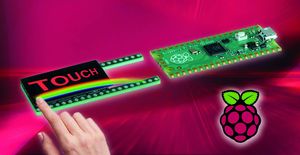 Mini colour displays for the Raspberry Pico
DISPLAY VISIONS are now offering IPS displays with and without touchscreens, including adapter board, for the Raspberry Pico.
DISPLAY VISIONS GmbH presents a new colour display for the popular mini-computer Raspberry Pico. The RaPicoTFT009 offers a diagonal screen measurement of 0.9 inches, but still has a resolution of 160 x 80 pixels for high-definition displays. Thanks to the IPS technology (In-Plane Switching), it produces a high-contrast image with strong colours regardless of your viewing angle. As RaPicoTFT009TC, the display even comes with a capacitive touchscreen. Texts as well as images can be shown. It is also supplied with the corresponding software with C library, numerous functions and detailed documentation, making the presentation of measurement value and parameters really simple. Designed as a "Shield", it can be connected directly to the mini-computer.
The energy-efficient screen (max. 80 mW) is perfectly suited to various IOT applications. At the Raspberry, only one of the two SPI interfaces, and one of the 26 GPIO pins (GP13), are required. The touchscreen version (RaPicoTFT009TC) also uses an I²C bus interface and another GPIO pin as an interrupt input (GP8).
More information about this.