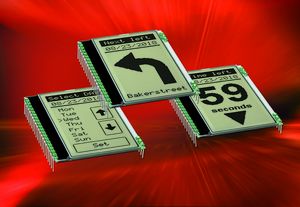 Display for vertical installation
The EA DOGL128 offers maximum contrast not only when viewed perpendicularly, but also at an oblique angle from above, right or left. As a result, this display of the low-power EA DOG family from Electronic Assembly is predestined for installation in vertical front panels.
Due to its design, LC-displays usually only provides high contrast and sharpness when viewed vertically. However, if you look obliquely or even sideways at the panel, its image is pale or in extreme cases completely inverted, similar to a photo negative. With the DOGL128, Electronic Assembly has designed a graphical LC-display, which also provides a high-contrast when viewed from above. It can also be easily installed in portrait mode, such as in the front of laboratory power supplies or in a slim handheld device.
Despite its small dimensions of 51 x 68mm, it displays its 64 x 128 pixels on a generous viewing window of 36 x 64mm. The LC module itself measures only 2.8mm in thickness. The combinable backlight adds an additional 3.6mm. The contrast is adjusted once by command and remains stable over the entire operating temperature range between -20 to 70°C thanks to the integrated temperature compensation.
The DOGL128 is available in both FSTN and STN technology in five different background colours (white, black, blue, yellow-green, transmissive and yellow-green reflective). The panel variants can be combined with LED lighting in seven different colours, including full-colour RGB and white as the most effective and brightest light source. Designed for mains-independent operation, the DOGL128, including its backlight, is satisfied with 3.3V supply voltage in single supply operation. Its typical unilluminated current consumption amounts to 320µA in full operation, together with the white illumination it draws about 5mA. The display is interfaced via a serial four-wire SPI. Since communication is unidirectional, no busy queries are necessary, as is common practice.
Installation is extremely simple: With its 20 pins (grid dimension: 1/10"), it can be soldered directly into the board or plugged into socket strips. This simplifies the construction of a prototype as well as the subsequent construction in series production.
Electronic Assembly offers a free download of the simulation software. On a Windows PC, all display types including the various illuminations can be tested virtually with individual texts and images. Further slim displays are available starting with a width of 41mm.
Read here the complete data sheet (pdf) and more information on EA DOG series.