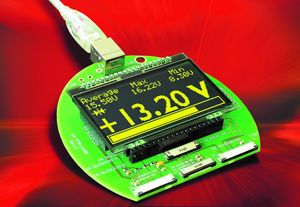 The OLED display test is becoming child's play
The new USB test board EA 9781-1USB from Electronic Assembly helps developers of applications with OLED graphics displays to save a lot of time. The board makes it possible to run a fast, yet thorough test without the user having to prepare comprehensive test routines or even any suitable hardware – Electronic Assembly are even providing the test software free of charge.
The built-in test board sockets accept all OLED display components from Electronic Assembly with pins and ZIF (zero insertion force) connectors; all necessary driver circuits are fitted already. The matching software, StartDog.exe, is free and includes all functionality.
The board EA 9781-1USB can be connected to a Windows PC via its USB connection, where the StartDog.exe software runs. The tool generates several test images and templates. In addition, you can add your own test images using the drag-and-drop function. Aside from the USB connection, the test board also provides a SPI interface to become connected to any of your microcontroller. This allows you to operate your own applications quickly and in an uncomplicated way. Additional hardware is no longer needed.
In addition to this and without buying any hardware, StartOLED.exe contains a full OLED simulation for Windows. With that, developers can display any available model from their comprehensive assortment of OLED displays on their PC screen and replicate its behaviour. In this way, the selection of display models is becoming child's play and ideal for the planned application – including colour and resolution. The software can be downloaded from Electronic Assembly's website free of charge: another example of how Electronic Assembly consequently implements its guiding principle "Making things easy" in real life.
More information on our Website.