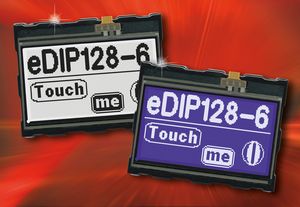 Easily Programmable Graphic Display
"A picture is worth a thousand words". To an increasing extent, development teams are taking this truism on board. They are designing in graphic displays rather than alphanumeric panels to show machine state information and instrumentation data. Text and graphics can easily be displayed together on the same screen.

The EA eDIP128-6 product family made by Electronic Assembly is the follow-on to the text displays which are now an aging technology. Letters, numbers and special characters can still be displayed, but in different fonts and sizes as well. Users can also add company logos and icons with the aid of simple drawing functions that eliminate the need for complicated graphic programming. The texts and images are stored in on-board memory or loaded at runtime. A display and a touch panel make an excellent combination. With minimal time investment, user-friendly man-machine interfaces can be designed which eliminate the need for buttons, switches and other controls. EA eDIP128-6 display service life exceeds 100,000 hours of operation, making the family ideal for demanding industrial and medical equipment applications. They also have 10-year guaranteed availability to meet the needs of this application space. The displays are available in various sizes as needed for the target applications.