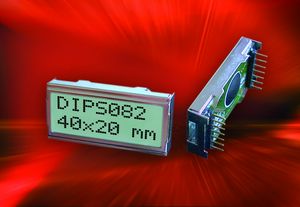 Compact displays for quick assembly
Featuring external dimensions of just 40 x 20 mm, the EA DIPS082 precisely fits into 19" rack systems with one height unit (1 U). The saying "time is money" also applies to this industry, as it does everywhere - especially when it comes to assembling. For this reason, the compact EA DIPS082 dot matrix panel including pins with a grid of 2.54 mm (1/10") is soldered directly into the circuit board or plugged into a socket. No additional fixing screws, spacer sleeves or connecting cables are required. This saves material and shortens production time per module by two to three minutes.
The high-contrast LCD Supertwist display can display two lines with 8 characters measuring 5.01 mm each in height or, as EA 8081-A3N, one line with eight characters almost twice as high (7.15 mm). His ROM already contains 192 ASCII characters. Eight freely defined characters can be added to this character set. All displays are supplied with standard controllers, ensuring that existing hardware and software can be used without modification.
The EA DIPS082 is compatible with HD44780 and is connected to a 4- or 8-bit data bus. The supply voltage of the unit may optionally be ±2.7 V, ±3.3 V or 5 V (at 2 mA). The operating temperature range is from -20 to 70 °C.
The display is also available as EA DIPS082-HNLED with integrated LED backlight. It requires 5 V as supply voltage, with a typical current consumption of 50 mA (max. 80 mA). By modifying certain resistors, the lighting can also be switched and regulated.
The EA DIPS082 is part of a family of quickly mountable dot matrix displays. Currently, the EA DIP series also includes the following models: There are text displays in the format 68 (75) mm x 27 mm with 1 x 8, 2 x 16 and 4 x 20 characters, as well as a graphic display with 122 x 32 pixels. The 75 mm x 46 mm format offers a text display with 4 x 20 characters and a graphic display with 128 x 64 pixels. The largest graphic display has a size of 113 x 70 mm and a resolution of 240 x 128 pixels.
A long availability of more than 10 years, an excellent support and highest quality guarantee you a safe future. Touch panels are optionally available for the graphic displays.
More information at our website and data sheet.