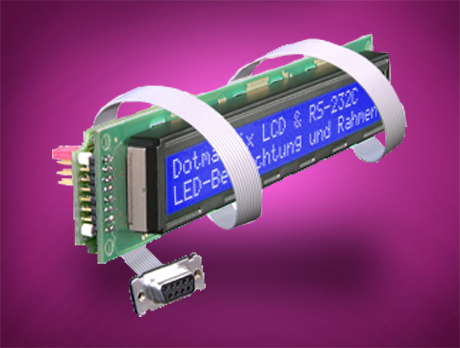 Serial devices with RS-232/RS-422
Our serial devices are a dot-matrix LCD series of products that are ready for operation with a driver and a bezel or a snap-in housing. They are connected to a standard RS-232C interface (or, optionally, an RS-422). The data transmission rate can be set to 300, 1,200, 2,400 or 9,600 bps. All cursor control (line feed etc.) is automatic. The displays are equipped with LED lighting that can be switched off by software means.
All displays except for 8- and 16-line displays are available for a 5V or 9-35V supply.
Addressing: Thanks to selectable addresses, up to 64 displays can be addressed separately at a serial interface (EA OPT-DIP6).

Prices as of 25 items begin at 78.22 euros*). Smaller quantities can also be delivered at short notice. You will find more information in our flyer and the data sheet.

*) Prices quoted are inclusive of 19% sales tax.