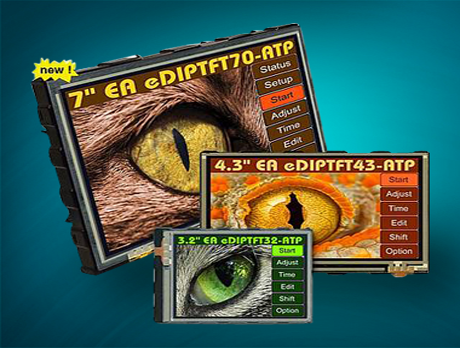 3,2" ~ 7" TFT with Serial Interface SPI/I²C
As the first in the world we do provide TFT displays with 3.2", 4.3" and 7", which are immediately running and do provide from the first minute the full functionality. These displays do require a single supply 5V= (EA eDIPTFT32: 5V= or 3.3V=) and an interface RS-232, I²C or SPI only.

All character sets and control /graphic functions to build-up a screen are immediately available.

no PC / embedded system necessary
low power with max. 900mW (except 5.7" and 7": 3.5W)
no training for a new software and programming tools necessary
full function already immediately after power-on
drastically reduced time-to-market
tested functions validated hundreds of times
unparalleled flexibility thanks to powerful commands and a variety of interfaces (RS-232, I²C, SPI)
extremely compact construction
and not the least important benefit: a clear price advantage compared to individualized solutions
information flyer as a pdf file